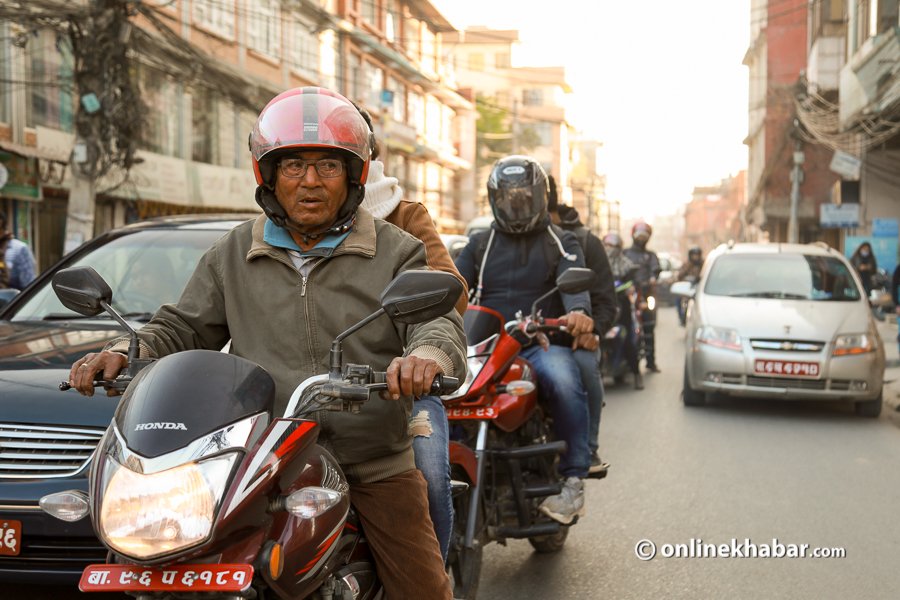 Call Mangal Man Maharjan and he will ask 'where are you?' before you tell him who you are and why you are calling.
Like hundreds of motorcyclists working for
ride-sharing apps
Tootle and Pathao in Nepal, Maharjan is accustomed to asking your location every time you call. But, he is strikingly different from most of the riders.
Seventy-two is past the retirement age for most Nepalis, but septuagenarian Maharjan works nine hours every day.
However, he does not have any compulsion to earn living for his family; his children are all grown up and they have been supporting him.
So why does this man ride to ferry people from here to there every day?
Maharjan looks too old to be a 'professional' biker–his hairs are grey and he has already lost many of his teeth. Yet, he tries to show himself 'young' to suit the profession: he regularly colours his hair. More importantly, perhaps, an inner zeal makes his face glow.
It was not his hair colour or wrinkled face that posed challenges to his decision to join the job. But, his unfamiliarity with smartphones certainly became an issue. Initially, he feared that he could not do it.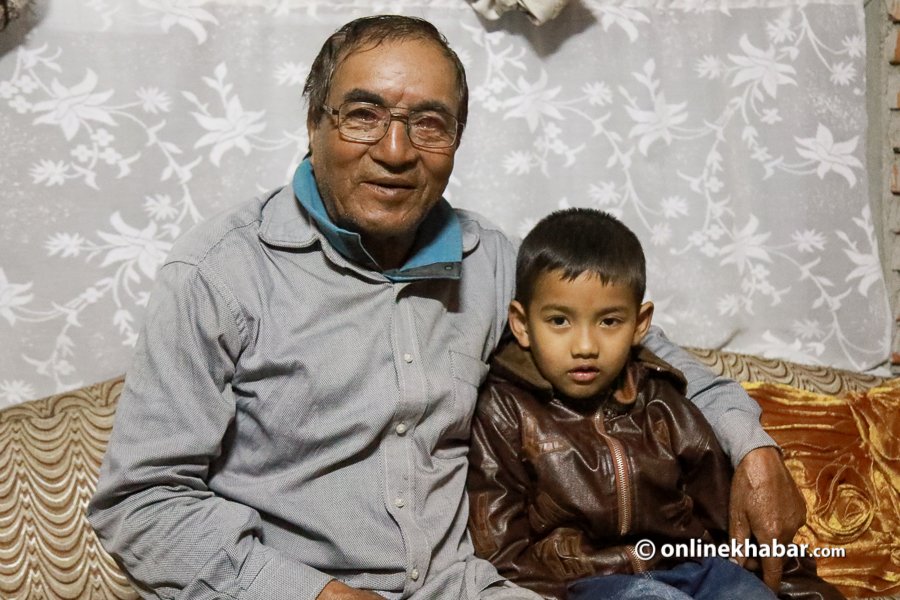 "I even did not know how to answer a call on such phones," Maharjan says opening Pathao app on his cell, "But my grandson helped me."
Chronic traffic jams are another challenge for him, but Maharjan has already learned not to lose patience. Whenever he is caught in congestion, he explores if there are alternative routes.
The alley that leads to Maharjan's house in Ghattekulo of Kathmandu is quite narrow, so he is used to passing through confined paths.
Further, it is his experience that has helped him get ready for the job. He worked as a driver for the entire youth of his life. In the first 17 years, he drove trucks. Then, he worked as a night bus driver on different routes.
While driving the bus, Maharjan once got an opportunity to work as a chauffeur for a chief justice of the Supreme Court. That was not a permanent job but Maharjan was content with it because he thought being the chief justice's chauffeur was more respectful than being a truck driver. "But, the wife of my boss began nagging me as if she was paying for me. That made me quit," he remembers.
Following that, Maharjan bought a taxi and began driving it. For whatever reason, he gave up that also after three years. He joined a paint shop as a driver again.
One day, he was caught by a traffic police staffer for a minor road discipline issue. He was fined Rs 500. When he asked the employer to give him the money, the employer said, "I won't pay the next time."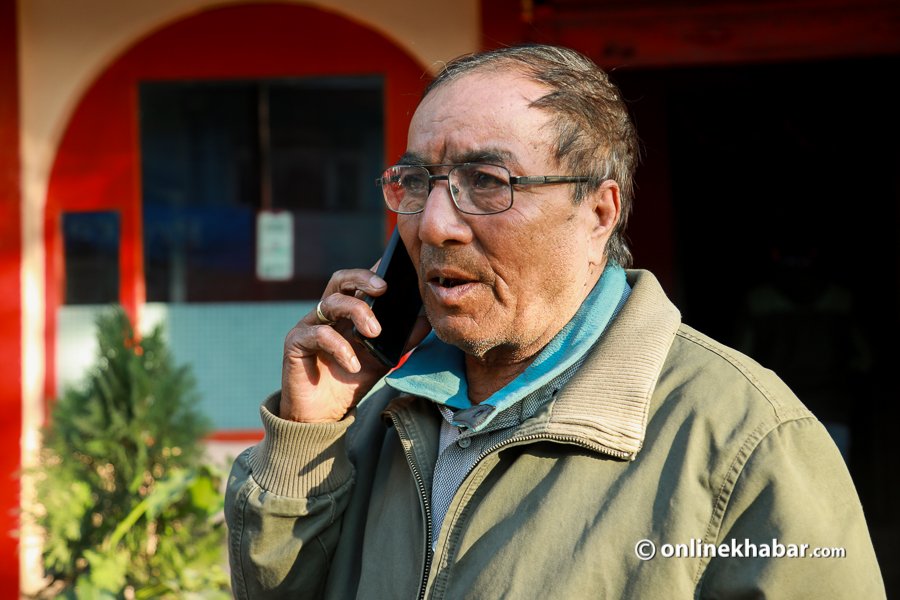 Maharjan felt that the employer's statement hurt his dignity and instantly replied, "Okay sir, I will not drive your vehicle the next day."
He briefly worked for a doctor but left again after realising that his employer was not happy with him.
"When I left my last job, I slept at home for three days–because I had nothing to do. But, I was restless on the fourth day; I felt my body ached. The longer you sleep, the more your body hurts," Maharjan says he was tired of passivity.
From the next day, he began spending the entire afternoon with his pet bird, a nightingale. He was happy with it, but he was not satisfied.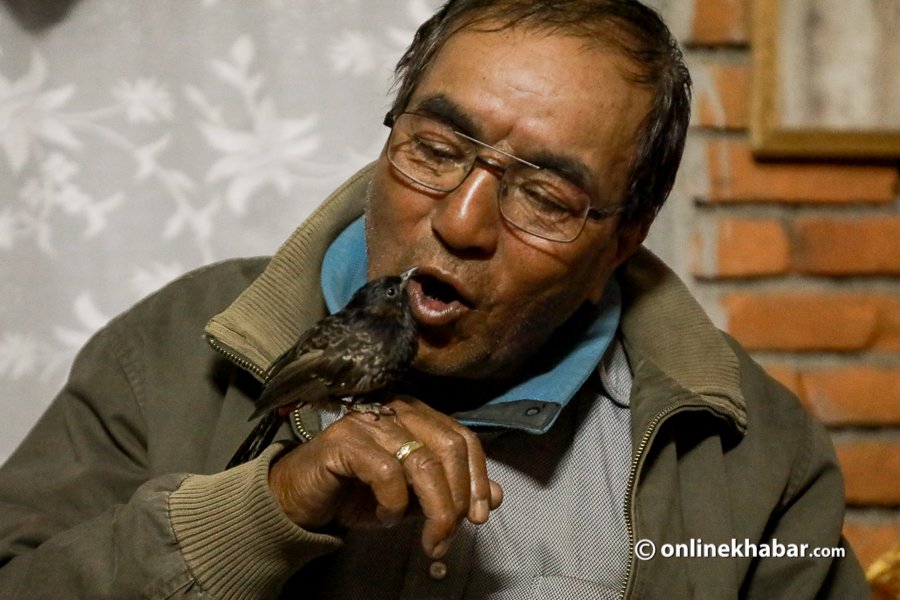 Around the same time, he learned about Pathao.
A few days later, he shared with his family, "I want to register myself as a Pathao rider." There are four other members in his family: a son, two daughters-in-law and a grandson. His wife died 12 years ago whereas the elder son is in Dubai for work.
"I thought the rider's job would give me some money whereas I can kill my time easily. Then, you would get a sound sleep. No tension!" It has been around five months since he joined the job.
Maharjan's daily routine changed since then. He wakes up at 4, takes his favourite breakfast of suji haluwa (a semolina dish), eggs and tea. Then he feeds the pet bird before leaving for the job at around 7. Maharjan does not have anyone to order him how long he should work every day, but he usually takes the last passenger before 4 in the afternoon.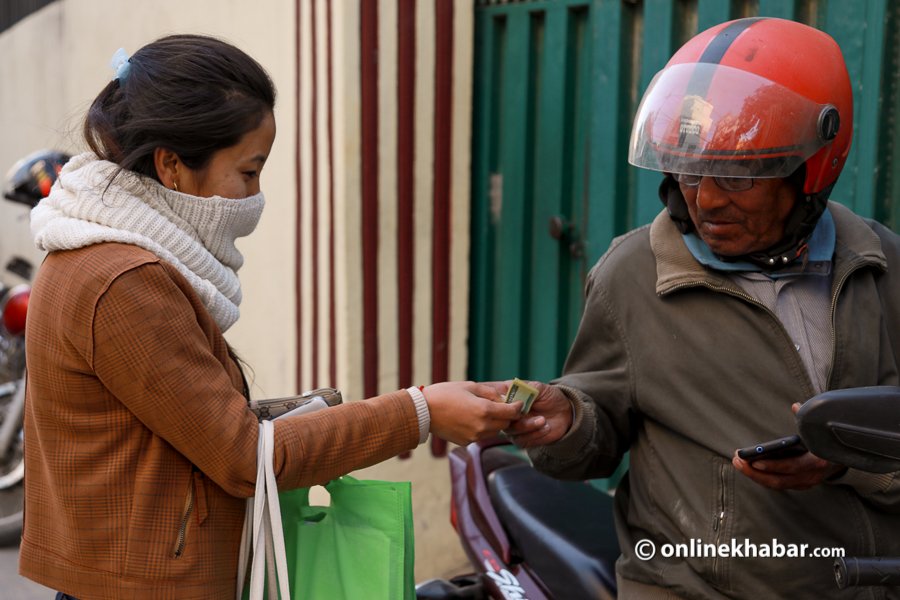 "How old are you?" is the most frequently asked question for Maharjan these days. Some of the ride-sharers tell stories about elderly members of their families. "My dad is also of your age, but he is hospitalised now… my dad cannot walk well, but you drive perfectly… Some of them take selfies with me. They love me, respect me," he smiles.
"My family also doesn't like me working," he says, "They tell me, 'no more work, stay at home'. But, I love working. I will continue working as long as I can."